5

min read
While our idea of a "dream date" doesn't usually include social distancing, dating in the COVID-19 era means making accommodations to help protect the health of you and your new sweetie – and anyone else you may come in contact with. 
Social distance dating may require some extra tools, coordinating, and planning ahead, but it's absolutely do-able. 
The first question to ask yourself and your date is whether your date will be in person or virtual. We're here to give you ideas for both!
In-Person Dates
We're going to assume that if you're meeting in person, you are also taking measures to prevent possible transmission of the virus that causes COVID-19. That means wearing a mask, keeping at least a six-foot distance, and most likely meeting outside. 
Although this can seem limiting, it also opens up so many opportunities and takes away the awkwardness we often experience with your standard date at a bar or restaurant. You may very likely be meeting up during the day, and will be able to focus on a fun outdoor activity, whilst getting to know each other. 
Of course, you have your standard go for a hike or bike ride, which are awesome choices, but here are some other options…
Water Sports
If you live near a body of water that allows for water sports, this is a great choice to get outside and get to know somebody new! Weather permitting, you can try renting a standup paddleboard, individual kayaks, or maybe have a go at surfing! 
Picnic in The Park
This is a classic and for a good reason. Who doesn't love watching the sunset with a glass of wine, a delicious meal, and a fun company? You'll most likely be bringing your own meals, but you can also order take out from the same restaurant, so you can bond over your favorite dishes. 
For extra fun get to know you activity, bring some art supplies along, and create portraits of each other. Watch the giggles ensue! 
Movie Night
If you live near a drive-in movie theater or have a backyard and a projector, you can absolutely make a movie night happen. Grab your coziest throw blankets, and bring your own snacks. What will it be? Comedy? Romance? A thought provoking documentary? You can learn a lot about a person by their taste in films!
Virtual Dates
If you and your date feel more comfortable getting to know each other through a screen, we've got plenty of ideas for you!
Cook "Together"
Order a meal kit, or make a grocery list together, and have fun cooking with each other from the safety of your own kitchens. Cooking is playful, and you'll get to collaborate and create even when you can't be together in person. You'll enjoy sitting down and enjoying your meal together, after this fun getting to know you activity. 
Show and Tell
Speaking of getting to know you. This involves gathering however many objects from your house and presenting them to each other, with a little side story about what each object means or says about you. 
You can even make it treasure hunt style with different prompts that you answer by collecting objects. Some fun prompts are "my cutest baby picture", "this is what I turn to when I'm feeling blue", and "this is me a nutshell".
Get Artsy
You can absolutely try the picnic idea of making portraits of each other through the screen. If you're musicians and have the right computer equipment, you can even have a virtual jam night. Another idea is to gather the same craft supplies and bond over learning a new hobby!
Other Helpful Social Distance Date TIps
Check Your Equipment:

Make sure your microphone, speaker, camera, and whatever else you're using to communicate with is working ahead of time. 

Clean Your Space:

This may be obvious, but make sure the space you're using is looking tidy, and reflects how you want to be perceived.

Check in With Roommates:

Be sure to give a heads up to roommates, family, or anyone else who may be around, that you will want privacy during your date. Unless you're feeling ready for them to meet the parents right off the bat! 

Look Good, Feel Good:

How did you used to treat yourself before a date? At-home spa time? Shave your legs? Wash your hair? You don't have to get too fancy, but take the time to do what you can so that you're feeling confident. You can go right back to sweatpants after.

Be Yourself:

Of course, you should always try to be yourself when dating, but sometimes we need an extra reminder. Especially when it's so normal to feel out of sorts, ungrounded, or be dealing with social anxiety. 

Have Fun:

Put all that stress and social anxiety aside, and just have fun getting to know a new person. Absolutely no pressure!
Covid, Communication, and Consent
As frustrating and heartbreaking as it can be living and trying to find love or romance during a pandemic, it does highlight the need for consent and communication.
You may be able to learn a lot about someone based on how compatible your approach to COVID is, as well as how communicative a new person is.
There may be a lot less pressure to get physical (or even hug) when you're still getting to know someone, and having communication on what that entails in the context of the pandemic is telling about how this person communicates and respects boundaries in general.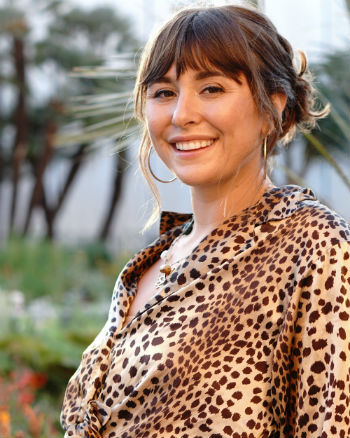 Natasha (she/they) is a full spectrum doula, reproductive health content creator, and sexual wellness consultant. Her work focuses on deconstructing the shame, stigma, and barriers people carry around birth, sex, and beyond, to help people navigate through their lives with more pleasure, softness, and sensuality. You can connect with Natasha on IG @spectrumoflovedoula.