3

min read
We aren't ones to brag (well, unnecessarily, anyway) and we just can't shut up about Lily Cup Compact. The very first collapsible and reusable menstrual cup on the market, it got a lot of buzz – like, Top 2% of Most Funded Kickstarter Projects Ever type buzz.
And why not? This little cup promises on-the-go protection you can take anywhere once you collapse it down in its convenient carry case. Whether you're a hard-core traveller or just want a cup that conveniently fits in the emergency pocket of your purse, you can pick up a Lily Cup Compact  online or at your local CVS – and if convenience hasn't convinced you, just check out these rave reviews!
THE TRAVEL HACK
Lily Cup Compact Review: A total game changer for your period
"I couldn't believe how simple it was. And also how comfortable. I wasn't really even comfortable, I just couldn't feel it at all. And it's so convenient too because you don't need to constantly change it like a tampon."
"I think [Lily Cup Compact] is going to be especially great for travelling because you can wear it all day without worrying about finding clean bathrooms or searching for your usual tampon brand in a foreign place. I have the Lily Cup Compact which is even better for travelling because it's collapsible and folds down into a tiny box which is a similar size to a compact blusher[.] "
Read more of this fearless traveler's product review on her blog!
EMMELINE PEACHES
Product Review: The Intimina Lily Cup Compact
"Personally I found the Lily Cup Compact to be an absolute dream to use. It was easy to insert and, once in, it what very unobtrusive. Honestly it hardly feels like it's inserted at all!
The main reason I know I'm wearing the Lily Cup Compact is because I can feel a little bit of pressure in my vagina but that's nothing compared to wearing a pad or tampon. Wearing the Lily Cup Compact gives me the freedom to do whatever I wish without being tethered down by my period, which is well worth the price tag of the Lily Cup Compact."
Emmeline loved reviewing Lily Cup Compact!
CHRONIC WANDERLUST
Lily Cup Compact Review
"It took me some time to work it and I almost gave up, but now that I know how to use it correctly I will never ever buy and use tampons ever again! Never worry about if I have packed enough tampons or not!"
Read more of this practical pro and con list of Lily Cup Compact.
POMMIE TRAVELS
Using A Menstrual Cup: Intimina Lily Cup Compact Review
"As you can see [Lily Cup Compact is] so small in size that you can easily fit it into a purse. The case is discreet so most people wouldn't even know what it is. I can carry it around and take it anywhere when I'm travelling, knowing I'll never have to pack a bulky box of tampons into my suitcase."
Pommie explains how to get the hang of a new cup – and then love it!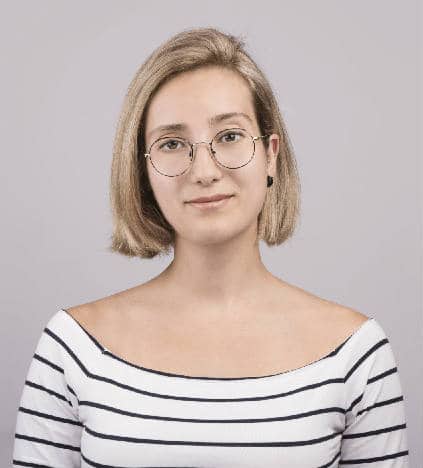 Lane Baumeister is an internationally-based Canadian writer with several years' experience creating educational and entertaining articles that discuss intimate health and sexual well-being. When not waxing profound about menstruation, she devotes herself to enjoying extremely good food and equally bad movies.