5

min read
In the modern plugged in world of social media, we've got countless dating apps at our fingertips. These handy dandy tools give us the ability to connect with thousands, even millions of people with just a few quick clicks.
As overwhelming as that may be, what a cool opportunity to be able to form community, and even romantic relationships.
Especially amids the COVID-19 pandemic, when the norms around meeting new people have changed, and in-person opportunities are limited.
But it can be tricky understanding how to navigate online dating. Because as much as it can feel like a game on your phone, you're dealing with people's hearts, specifically your own.
Your friends at Intimina are here to give you some tips, tricks, and guidance on being authentic when online dating.
No Shame in The Game
First off, there's nothing to be ashamed of.
Although this may not apply to you, it's good to get it out in the open because online dating can come with a lot of stigma. I hear it all the time when talking to friends. Things like "This is my first time", "I know it's weird but…", or "I'm going to lie about where we met".
While this is perfectly understandable, online dating is an incredible tool to help us meet one of our most basic needs – human connection.
So why not use what you've got?!
But Also- Don't Play Games
Do we have to say it again? These are people's hearts, including your own. You're not doing anyone any favors by playing games or being manipulative.
When talking to someone new, check in with yourself and how you're communicating. Is this the angle you want to be coming at a relationship with? Are you being true to yourself? Are you being fair to this other person? Do you have ulterior motives for talking to this person?
Because if you want to have an authentic online dating experience, you need to drop any and all of that.
What Do You Want?
When starting to online date, examine in yourself what you're looking for. A hookup buddy? Platonic friends? Casual dating? A long term partner? A threesome? A polyamorous situation?
There's a lot of options, and it's incredibly helpful to you and whoever you're chatting with to be clear about what you're both looking for.
Having said that, it's ok to not know what you want out of a situation – but be sure to communicate that. It's as simple as "Hey! I'm really enjoying getting to know you, I just want to let you know that I'm not quite sure what I'm looking for, but I'd love to continue talking and seeing what happens. What about you?"
What Do We Talk About?
The cool thing about online dating is that you get to flex your flirting skills with multiple people at once, and are able to hone in on what sort of dialogues get you excited when talking to a new person.
Even if you tend to be shy, you literally have nothing to lose by just being your (really awesome) self. Push yourself to be as communicative as possible.
Of course you'll want to learn the basics about someone's life like where they're from, what they do, and what their passions and hobbies are. Try phrasing these questions in a way that gets you both excited.
Instead of "What hobbies are you interested in?", try "What passions light you up?". You can use fun icebreaker questions like "What's your dream sandwich?" or "If you could go on any adventure right now, what would it be?".
When you put effort into conversations, you'll know right away if someone's worth your time, by how much effort they give back.
You'll also want to ask about topics that are really important to you. Are there any potential deal breakers that would disqualify someone from the running? That could be their views on marriage, kids, politics, social justice, or general views on life.
Know When to Move Along
If you're not familiar with the term scarcity mentality, it's time you learn. Scarcity mentality is the belief or fear that there won't be enough. In terms of dating, this looks like dating someone that you know isn't the right fit for you, out of fear you won't find someone else.
If you're feeling hesitation, go with that. Don't be afraid of saying no and breaking things off, I promise you there are plenty more fish in the sea.
Trust Your Gut
Your intuition knows.
As impersonal as screens can be, your intuition will still speak to you, letting you know if someone is wrong or right.
Notice if talking to someone triggers you in any way. You may experience actual physical sensations in your body, like your gut or heart, telling you this isn't right.
Or that it absolutely is right!
Be Gentle With Yourself
Last, but certainly not least…be gentle with your sweet self.
Online dating can come with what seems like a lot of rejection. But know that any perceived "rejection", just wasn't the right person for you.
It can be exhausting. If you feel yourself getting burnt out, or using online dating as a crutch, be sure to take a break, and even delete the apps for a period of time. You can try setting time limits on them as well, so it doesn't feel you're binging on swiping.
Finding love doesn't always feel easy, so remember to stay open to opportunities, and be true to yourself. Once you find a new sweetie, it's time to build your dream distance date!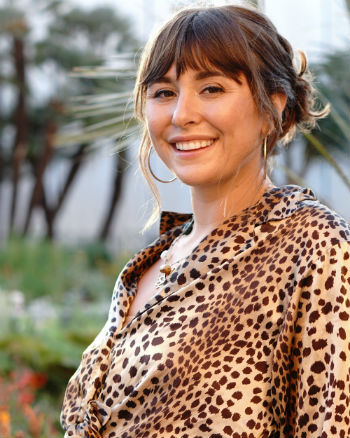 Natasha (she/they) is a full spectrum doula, reproductive health content creator, and sexual wellness consultant. Her work focuses on deconstructing the shame, stigma, and barriers people carry around birth, sex, and beyond, to help people navigate through their lives with more pleasure, softness, and sensuality. You can connect with Natasha on IG @spectrumoflovedoula.