4

min read
Sex. It's what's for dinner. Or maybe breakfast. Who knows, it could be for lunch! The point is, we love it, we're curious, and we want more. 
Not just more in quantity, but more of a variety of experiences. We're not shy, and experimentation is the name of the game. 
What kind of experimenting are we talking about? Threesomes, and (maybe) moresomes. 
If you haven't heard by now, group sex is in. And it has been for centuries. 
History Does It
You don't have to look too hard to find ancient paintings and artifacts depicting people engaging in group sex. The Indian Sanskrit text, the Kamasutra, which dates back to about 400 B.C. is a prime example of this.
Greek Gods and Goddesses were frequently depicted having wild orgies. 
Let's not forget about the European renaissance, where many artists liberally portrayed X-rated scenes of multiple lovers getting it on. 
Art imitates life, imitates art? 
Curiosity Killed the…Cat
We are curious kitties, and that curiosity certainly doesn't stop when we get to the bedroom. Whether or not you actually have the intention to engage in group sex, it's a totally common, and normal fantasy to have. 
A comprehensive study of more than 4,000 Americans at the legendary Kinsey Institute, found the number one fantasy was, you guessed it…threesomes!
See, you're definitely not the only one. Group sex is nothing new, and it's not going anywhere anytime soon, so you may as well join the party. 
So Many Possibilities 
In the constantly evolving world of gender and sexuality, there are so many possible configurations when it comes to the dynamics of group sexcapades.
These different dynamics open up opportunities for different experiences and sensations. As well as a deeper understanding of your own sexuality.
Sex is a great place to take your creative powers for a test ride. Wink, wink, nudge, nudge. 
Talk it Out
Communication should always be a key component of your sex life. This is even more crucial when it comes to group sex. 
If you're having a threesome with your current partner, it's a good idea to first talk to them and figure out what you're both comfortable with. Maybe there's certain *ahem* positions that are off-limits. 
You need to have a clear understanding of what you're comfortable with as a couple, before adding someone else into the mix.
Then talk after. Make sure to follow up. Is there something that made you uncomfortable? Something you would have liked to do, but didn't ask for in the moment? Practice makes practice!
Bring in Reinforcements
A little toy play never hurt anyone. And it certainly won't hurt here. Don't be afraid to call for backup by calling on your favorite vibrators, lubes, and more. Ever heard of a double dildo? You know the double-edged lightsaber used by some of the Sith lords in Star Wars? Well it's like that- but for your vagina. 
May the force be with you!
Couples on Couples on Couples
Not quite ready, or interested, to totally bring someone else up in your space, but want the group sex experience? Try a sex party, or getting it on in the same space with another couple, but not necessarily "together". You get a bit of voyeurism in there, some extra flavor and eye candy, with less of a risk of boundaries being crossed.
Speaking of Boundaries…
Set them. This goes with communication, but make sure you have a clear understanding of what your boundaries are. First personally, then as a couple, and finally, as a group.
Is there anything that is off the table? Is everything fair game? For some people, kissing may be a no-no. Penetration could also be precarious territory. Are any holes off-limits?
It's also totally ok for your boundaries to change in the moment, because sometimes we just don't know until we're in it. It's ok to say stop, and it's ok to change your mind. The last thing we want is for a sexually liberating experience to turn into a harmful or traumatic one. 
You may even consider a practice that's popular in the kink community: Having a safe word. A totally neutral word or short phrase like "Peanut butter", that will let everyone know it's time to pause- without having to explain yourself.
Intimacy All Around
Although group sex is perceived as kinky, which is great, that doesn't make it any less intimate. There's a tendency for things that are considered erotic, to lose some of their emotional depth. Which does not have to be the case at all. 
Deep intimacy, meaning, and transcendence can exist in group sex. Love can exist in group sex. It could also just be a lighthearted, playful experiment. A way to spice up your sex life. Or all of the above. They're not mutually exclusive!
You Know the Rules
Finally, be safe. Use necessary protection. Be safe emotionally by using the steps above, checking in with your partners, and tuning in to their needs. Safety is sexy.
Let this be your invitation to try something new, or reawaken an old hobby. Invite your friends, the more the merrier!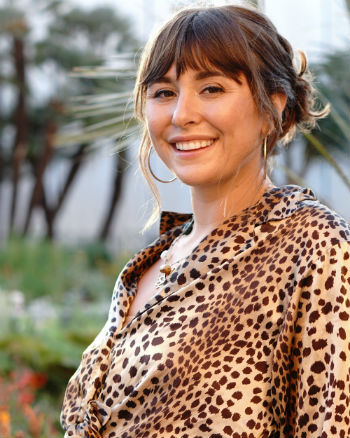 Natasha (she/they) is a full spectrum doula, reproductive health content creator, and sexual wellness consultant. Her work focuses on deconstructing the shame, stigma, and barriers people carry around birth, sex, and beyond, to help people navigate through their lives with more pleasure, softness, and sensuality. You can connect with Natasha on IG @spectrumoflovedoula.