Getting on Board With the Menopause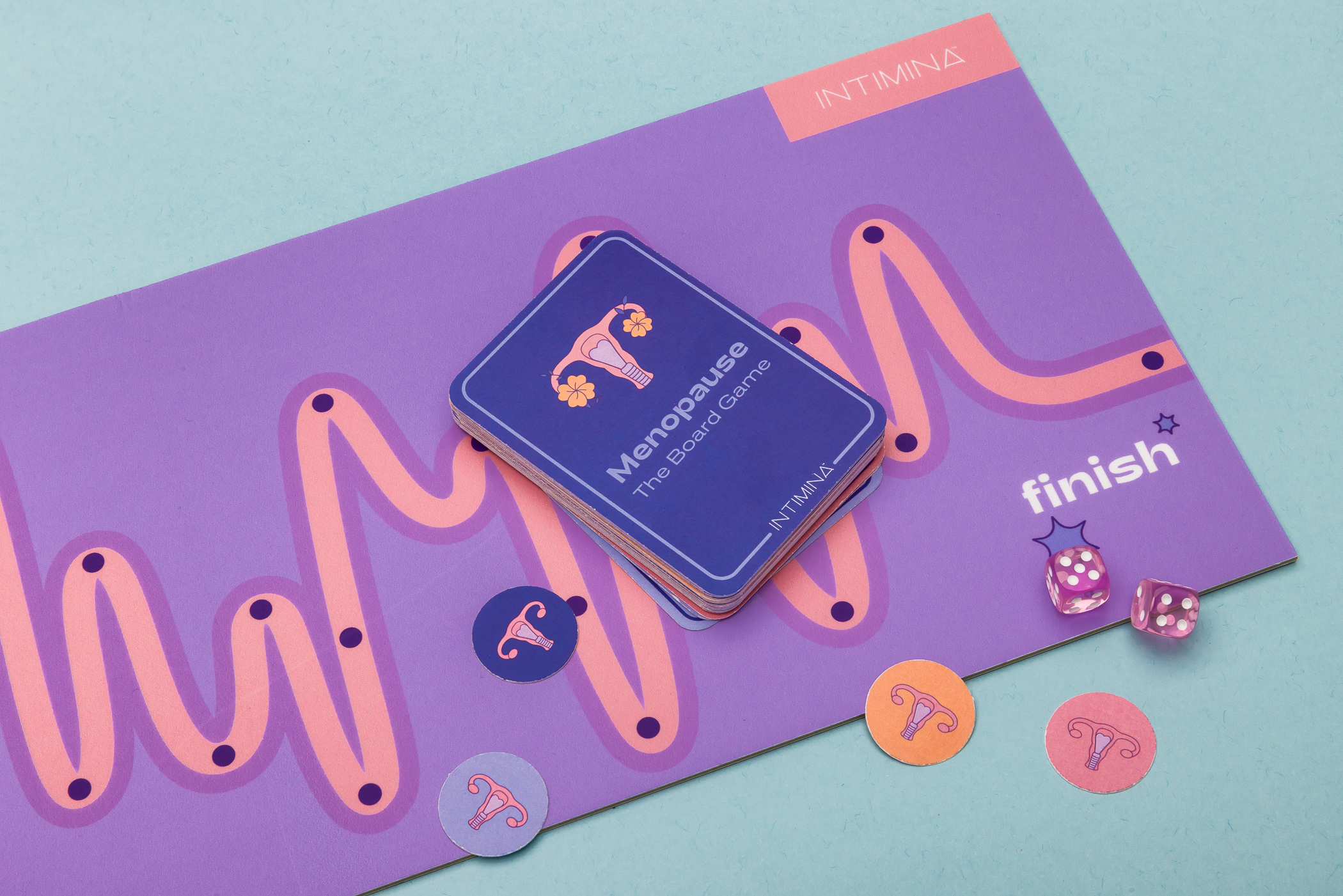 4

min read
Forget about solving 'whodunnit' in the billiard room or playing at being a property tycoon. This year's must-play – and possibly most important – board game is all about the menopause. That's right, for the first time, the more than 40 symptoms of menopause have become the basis of a unique and thought-provoking board game.
Menopause: The Board Game is launching to coincide with World Menopause Day (18th October) and was created by intimate wellness brand INTIMINA alongside gynaecology specialist GP Dr Susanna Unsworth to raise much-needed awareness of the menopause and tackle the taboo that surrounds it.
Appropriate for all ages, the board game will see players race from start to finish answering questions about the menopause along the way. Using uterus-shaped tokens, players will take it in turns to move across the game board – which resembles the changes in oestrogen levels during the menopause. Question cards will quiz players on the many and varied symptoms, with answers and explanations to help people learn as they play.
The board game comes as new research reveals more than one in 10 (12%) adults say they aren't confident they know what the menopause is. This figure jumps to almost a fifth (17%) when looking specifically at men. What's more, more than a third (34%) of people asked said they were unsure they knew what perimenopause is or what it entails.
INTIMINA's research also showed the number of symptoms associated with the menopause is vastly underestimated. On average, respondents said there were 11 symptoms of the menopause, but the reality is there are more than 40. Worryingly, more than one in 10 (13%) men polled didn't know the menopause had any symptoms at all.
The startling lack of knowledge about the menopause is also behind a quarter (25%) of those surveyed believing that people are actually given medication to dissolve unused eggs once menopausal. One in seven (14%) also think you can't have sex whilst going through the menopause.
It is well-documented that people experiencing menopause need more support in the workplace. And over two thirds (68%) of those surveyed by INTIMINA agree that people should receive menopause sensitivity and awareness training at work. With this in mind, INTIMINA has partnered, on the launch of its board game, with Positive Pause who provide no-nonsense information on their free to access menopause platform and deliver dynamic, online workplace training sessions. PositivePause will be using Menopause: The Board Game in upcoming training sessions and events.
Justine Pescher, spokesperson for INTIMINA comments: "The menopause is something that affects around half the population, yet there isn't enough education and open dialogue surrounding it which leads to misinformation and a lack of sensitivity for those going through it. Our research showed only 13% are taught about it at school and it's widely agreed that it should be a topic discussed as part of workplace training. That's why we've crated Menopause: The Board Game, a game that not only teaches players about the menopause but also encourages conversations in normal, everyday settings."
Gynaecology Specialist for INTIMINA, Dr Susanna Unsworth, adds: "It's clear there is a lot of misunderstanding when it comes to the menopause and its symptoms, amongst both men and women. I'm delighted that INTIMINA created Menopause: The Board Game as a tool to raise awareness and knowledge about a staggeringly overlooked and misunderstood process. I look forward to seeing it kick-start conversations this World Menopause Day and beyond."
Ann Stephens, co-founder of PositivePause says: All women and some members of the trans and non-binary community are guaranteed to go through menopause yet most lack basic awareness of the signs and symptoms. Many fail to join the dots as they begin to experience the impact of fluctuating hormones in perimenopause. Opening up the conversation brings menopause out of the shadows. By normalising what is all too often perceived as a negative process, it can be turned into a positive. The better informed we all are, the better it is for everyone, benefiting women's health, relationships, and employment. As we like to say, 'menopause is not about the time of the month, it's about having the time of your life!'.
"Menopause: The Board Game is a genius concept for getting the topic of menopause into the workplace, making it positive, interactive, educational and a lot less scary!"
In addition to board games distributed to PositivePause, a limited initial batch will be available from INTIMINA. To register interest please email intimina@thisiscow.com