Dildos for Days: Choosing The Right One For You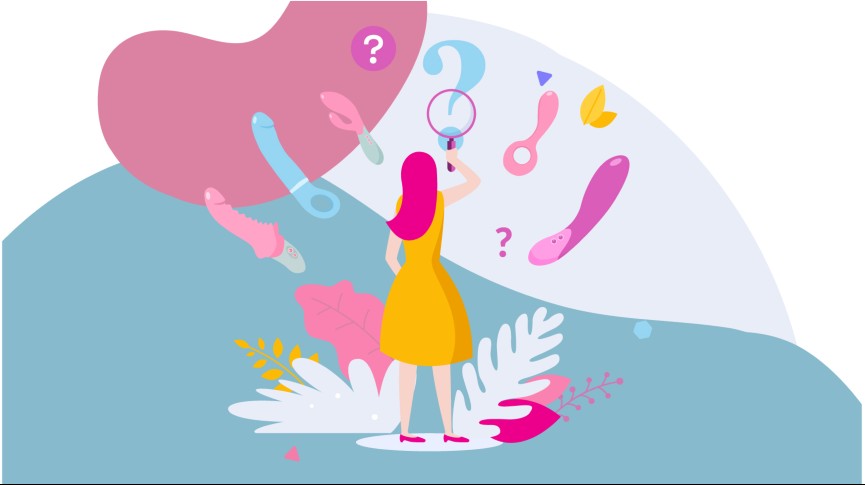 5

min read
So you've decided to dive into the world of dildos. Welcome! Or maybe you're well versed in the many options that lie in sex stores but are looking to expand your horizons. Welcome to you too!
Dildos can be a delicious option for anyone, whatever your gender or sexual preferences. No matter who you are, or where you are on your dildo journey, one thing's for sure – the process of finding the right one for you can be daunting to say the least. 
With seemingly endless materials, types, designs, gadgets, and gizmos to choose from, it can feel like you're drowning – in dildos. Not that that would be the worst way to go.
We're here to clear up the confusion and offer some tips and recommendations for choosing the right dildo for you. 
Glass, Crystal, and Silicone – Oh My!
One of the first things you may notice when dildo shopping, is the variety of materials that they come in. 
Rubber dildos are typically more affordable, but may not be as durable to or easy to sterilize. Metal dildos are easy to clean, can be heated up or cooled down for temperature play, and look really cool on your bedside table. Glass dildos are beautiful to look at, reliable and sterile, yet lack the flexibility of other materials. Silicone dildos tend to be the most popular as they are body-safe, flexible, and made into a wide array of styles.
Keep in mind that the lube you choose depends on the material of your dildo. Read the instructions to see what is compatible with your new friend.
Double Trouble
Dildos aren't just for solo play – although it's awesome if that's what you're using them for.
Queer couples, hetero couples, trans people, cis people, non-binary folx, and everyone in between can also find ways to incorporate dildos into their sex lives.
One awesome option is quite literally called a "double dildo". You can use both sides of these nifty devices for stimulation and penetration. This is awesome for couples where both people have vaginas! These kinds of dildos come in different angles and styles.
Typically they're either straight across, possibly with a flexible material that allows for more movement, or with each end at a right angle from each other. Talk it out with your partner to see what would make more sense for your bodies and desires. 
Dildos can also be used for anal pleasure, sometimes affectionally called "pegging" – typically when a female penetrates her male partner by using a dildo. If this is something you're curious about, talk to your partner, and opt for a dildo that comes with a comfortable harness or "strapon". You may want to start smaller if anal is the intent.
Strap ons are popular amongst queer couples as well, giving lovers with vaginas the opportunity to explore thrusting, penetrating, and pleasing their partners'.
Options, Options, Options
Other variations you'll see in the world of dildos are size, texture, and shape. 
Size can be tricky as you may not know what you can handle. If dildos are new to you, try smaller at first, or one made from a more flexible material. If at first, your new friend seems too big to handle, try incorporating more lube – that is safe for your toy, and take your time to ease into it. 
While much of the texture of dildos is influenced by the material they're made from, there are also further options to tantalize you with touch. Ribbing, bumps, tentacle shapes, veins, and ridges are all being incorporated into different dildos. It may take some trial and error to know just what works for you. No worries, have fun with the exploration!
To Vibe or Not to Vibe
Talk about high tech! The field of sex toys has seen incredible innovations sprouting up left and right in recent years.
You've got your good old fashioned phalluses that vibrate all over, giving you an internal *massage*. There are revolutionary devices like the Ina Wave from Lelo, that uses robotics to create a "come hither" motion on your G-spot. 
Growing rapidly in popularity – and for good reason – are "bunny massagers" that allows for simultaneous penetration and clitoral stimulation.
Given the vagina's proximity to your stomach, vibrating dildos is not the best option for everyone, as it can potentially make you queasy, or even disconnected from the sensation.
To each their own!
Penis or Nah?
While some people relish in the idea of having a very *ahem* realistic-looking dildo…like say a veiny one with testicles attached to it, to others that is the last thing they want to see when getting their penetration on. 
Deciding whether you're into human-looking dildos is totally up to you. One deciding factor that may come into play here is a general lack of representation around skin color options. This is an area that sex toy companies can definitely do some workaround. 
If you want to go for a less realistic option, there's plenty of purple, red, blue, and rainbow devices out there!
Read Real Reviews
While this might go without saying, it's worth mentioning. Read the reviews! And not just the ones listed on a company's website. Go to third party websites, check out sex bloggers and social media, scroll on forums. Believe us, people are more than willing to give their honest opinion when it comes to dildos!
While keeping all these tips in mind, when choosing a dildo, ultimately the best thing to consider is what your personal needs and desires are. Listen to your body. Are you intuitively being pulled to the veiny red silicone number with a sturdy base?
Or maybe there's a rose quartz crystal g-spot massager calling your name?
Tune in to your body's reactions to certain toys, and it will help guide you in finding your dream dildo.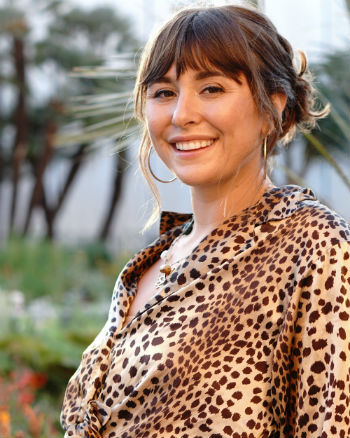 Natasha (she/her) is a full-spectrum doula and health+wellness copywriter. Her work focuses on deconstructing the shame, stigma, and barriers people carry around birth, sex, health, and beyond, to help people navigate through their lives with more education and empowerment. You can connect with Natasha on IG @natasha.s.weiss.