Review Roundup: Ziggy Cup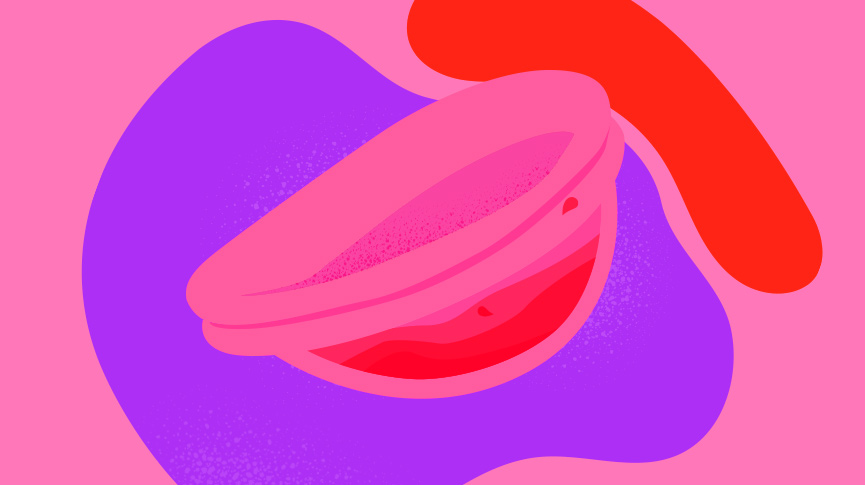 4

min read
Hey there Ziggy fans! Or, should we say, soon-to-be Ziggy fans?
Look, we get it – even old pros who have been using menstrual cups since the 80s might be confused by Ziggy's unusual shape, but Ziggy is a funky flat cup that could very well revolutionize your periods, collecting far more than your average bell-shaped cup, and able to protect you from leaks during partnered sex, which means your sheets get saved from spots and stains!
Want to hear more? Just check out these rave product reviews of Ziggy cup!
VIVA

I Tried the World's First Sex-Proof Menstrual Cup. Here's What Happened
"If nothing else, these guys know how to make menstrual cups look stylish. The box that Ziggy came in was beautifully designed and almost made it appear like a piece of high tech equipment."
"With doggy style and missionary, I was expecting a little mess. When I decided to get on top, I was definitely expecting a lot of mess. Surprisingly, we didn't have to whip out the detergent. Not a single drop of blood was found. The Ziggy cup was a success."
Check out more of Ossiana's review of Ziggy on Viva!
REUSABLE MENSTRUAL CUPS
Ziggy Cup Review | Intimina Menstrual Cups
"If you're looking for a menstrual cup that can be worn during sex, you've come to the right place! The Ziggy Menstrual Cup is a flat, flexible disc that fits right up under your cervix. It's more of a pouch than a funnel like with normal menstrual cups."
"What makes the Ziggy Disc so awesome is that it's very similar in design to the Soft Cup, serves the same purpose, but it's reusable for a few years. Amazing!"
Read more about how Ziggy compares to other menstrual cup options here.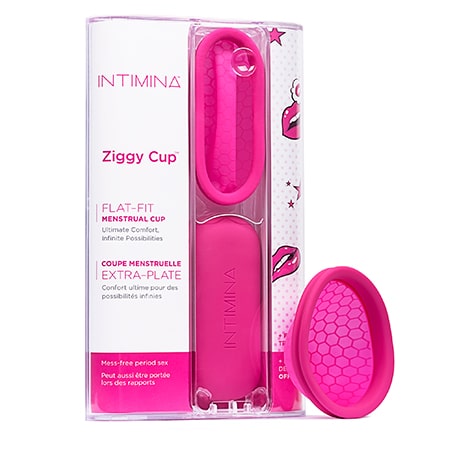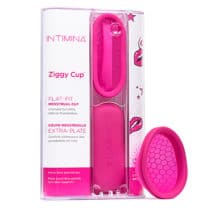 KINKLY
Behold! A Comfy Menstrual Cup You Can Wear During Intercourse
"As much as I love menstrual cups (and if you've never tried one, you definitely should!), the Ziggy's stem-free, flat-fit design is basically the answer to my penetrative period sex prayers. It's clean, it's comfortable and it's reusable, so you'll never have to run to the store at the last minute."
Learn more about this reviewer's experience with Ziggy on Kinkly!
PUT A CUP IN IT
Ziggy Cup Review | Mess Free Period Sex
"We know you've been anxious to hear more about the new Ziggy Cup from Intimina. Kim has reviewed it (camping, at home, and traveling to NYC!) and has many good experiences but a few not so good (blood drawer). Plus- did it work for "mess-free period sex" and stay in place? Totally!"
REFINERY 29
The Ziggy Cup Promises Mess-Free Period Sex – We Got Someone To Test It Out
"That night I wear my Ziggy when I sleep, and it makes a delightful alternative to bulky sanitary pads. I am pleased to report I wake up with no leaks thanks to its 12-hour guarantee. Now I've got 28 days to prepare for Ziggy round two – and this time I'm going to nail it."
Read the entire review here.
PAPERMAG
There's a New Kind of Menstrual Cup in Town
"Take it from a veteran: this is as convenient, cheap and easy as a period gets. No last-minute run to the corner store, no tortuous bathroom wrestling match with you versus your cervix. And most importantly, in this cheap gal's opinion, you're saving money."
Look what Papermag writes about our product!
REFINEDPROSE
Intimina Ziggy Review – The Best Menstrual Cup for a Low Cervix?
"The Intimina Ziggy is unlike any other menstrual cup; in fact, it's technically not a cup at all. The very great difference between this and other cups on the market is that this device has no stem… I've now used the cup across three periods. It's not been perfect every time, but I've certainly become more adept and had more success with it more recently.
…The short answer is yes, I'm a fan. I think if you understand how it works and you plan for its limitations – which are not many – then it's a fantastic product."
Read the entire review here!
Buy Ziggy Cup Here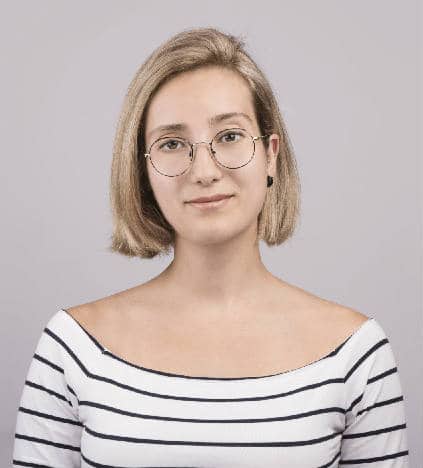 Lane Baumeister is an internationally-based Canadian writer with several years' experience creating educational and entertaining articles that discuss intimate health and sexual well-being. When not waxing profound about menstruation, she devotes herself to enjoying extremely good food and equally bad movies.