The dog days of summer have just past, and it's – gasp – time to start thinking about the new school year! Below, we have two Back to School deals on Intimina products that are perfect for everyone in September! There are discounts on cups for menstruators making their way back to class – no hall pass required! We also have something for moms who might be ready to make the most of a little more time to themselves while their kids head off to preschool. See what suits you, and save up to 20% between August 21 – 31st!
Never Hide Another Tampon in Your Sleeve Again!
Periods and school are a combo that works just about as well as the rusty lock on your gym locker. While the cramps can be a pain, unexpected leaks are the nightmare fuel of any person who's just trying to get to their next class. 
That's where Intimina has your back! Save 20% on ALL our menstrual cups – including the handy ones that collapse into a portable (and discreet!) carry case, like Lily Cup One and Lily Cup Compact. Here's more about both:
Lily Cup One
We may be period pros now, but we all remember our first periods – it's a big adjustment! That's why we created Lily Cup One, a menstrual cup that was made specifically for those who are new to cups, or might be new to menstruating completely. It has a slimmer bubble design, so it's less of a daunting fit for smaller anatomies, and it uses a stiffer rim that will be easier for newbies to pop open within the vagina.
Lily Cup Compact
The OG collapsible cup – seriously, it was the world's first! – Lily Cup Compact is perfect for pros that can change their menstrual cup in their sleep. Just like One, it can fit in a lip-balm sized case, but it holds slightly more, so it's good for slightly heavier flows as well!
…And Something for Moms Too!
If you know that Kegels were an important part of post-birth recovery, but let actually doing it slip your mind, it's okay! We totally get it (you did have a whole new person to take care of) and it's never too late to start strengthening your pelvic floor to regain strength and tone. Until the end of August, you can have 15% on our two bestselling pelvic floor trainers:
Laselle
Elegant and deceptively simple, Laselle is a series of weighted balls (available in 28g, 38g, and 48g) that put you in control of your Kegel recovery. Each silicone bead 100% body safe – when
nserted vaginally (with a small amount of feminine moisturizer, if needed), your pelvic floor muscles naturally start acting to keep it within your body. What makes Laselle special is that each weight has a smaller inner weight that moves with your body as you walk, creating an extra workout if you want to use Laselle while walking around your home!
KegelSmart 
KegelSmart is truly 'a smarter way to Kegel' – it uses special pressure sensitive plates under its silicone coating that can actually sense how hard your muscles are squeezing around it.
Using this information, KegelSmart creates a personalized training program just for you by setting 'workout routines' and recording your progress – all you have to do is insert, contract when it vibrates and relax when it stops.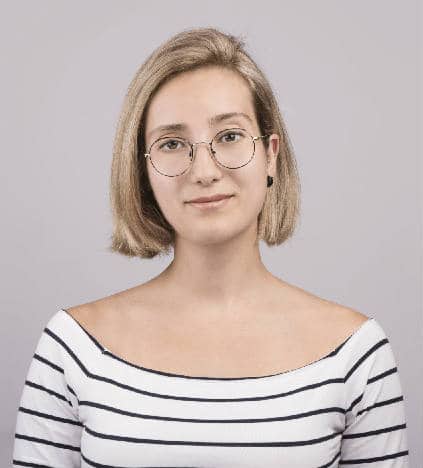 Lane Baumeister is an internationally-based Canadian writer with several years' experience creating educational and entertaining articles that discuss intimate health and sexual well-being. When not waxing profound about menstruation, she devotes herself to enjoying extremely good food and equally bad movies.