When we first launched Lily Cup, it was the very first cup that you could roll as thin as a tampon for insertion, which was the push a lot of people needed to give up tampons for good! Of course, we've now hit a lot of major firsts with our wide range of cups – from the first collapsible cup to the first cup that can be worn during sex, but that doesn't mean that the Lily Cup has lost any of its popularity. 
To celebrate how it's paved the way for women exploring new types of period products, Intimina is now offering 15% OFF the Lily Cup. Need we remind you that the average woman spends over $6,000 in her lifetime on single-use period products? Compare that to the discounted Lily Cup at $25. It's kind of a no-brainer.
It's Well-Designed
There's a reason why so many people immediately fell in love with our first cup – its design is functional. The Lily Cup is angled to complement the shape of our internal anatomy, having a unique no-spill rim that takes some of the stress out of changing your cup in public washrooms, and it's made out of 100% body-safe silicone that happens to be silky smooth.
While practicing self-care is a recent social phenomenon, it's something women have been practicing since menstruation has been around. So like, forever. According to a period study conducted by Intimina on 2,000 American women, 46% of women admitted to having missed school or work because of their periods.
On top of that, there are physical changes occurring in women's brains during their cycle. With so much going on, it's important to be comfortable and covered when it comes to our period products. This mentality is the foundation to all of Intimina's products.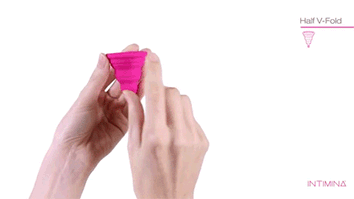 It's Great For Heavy Flows & High Cervixes
Just like feet, hands, and breasts, the size of a cervix differs from woman to woman and from one life stage to another. If you have a higher cervix (yes, you should measure before buying a cup!) then you generally have a little more leeway in choosing your cup.
While the average depth of a vagina is around 10cm (4 inch), the average size of a cervix, where the menstrual cup sits, is between 4 and 5 centimeters (1.5 – 2 inches). Some women find that they prefer a longer cup like the Lily Cup, as they usually sit closer to the vaginal entrance, making them a bit easier to remove.
In terms of capacity, the Lily Cup can handle 28 or 32 mls depending on the size you choose – Oh, you didn't  know it comes in two sizes? We'll get to that. But to put capacity into perspective, a tampon or pad typically holds about 5ml of blood, which means menstrual cups can hold at least 5 times more fluids.
A common misconception women have is the amount they bleed during their periods. According to the Centre for Menstrual Cycle and Ovulation Research, the average amount of menstrual flow is about two tablespoons (30 ml) per full 4-6 day periods.
Regardless of how light or heavy your flow is, menstrual cups have you covered when it comes to capacity. In fact, the cup can probably hold your blood for the entire week, but of course we recommend emptying it up to every 12 hours.
It Comes In Two Sizes
Our bodies change as we march through life, and it's possible that while a Lily Cup Compact had your back during your twenties, you're finding your body needs something a little different in your thirties, or even just while you're in post baby recovery mode! 
Generally, people who have not been pregnant or have stronger pelvic floors will find Lily Cup Size A (light pink) the best fit, while the Size B is slightly larger. Even if you gave birth via Cesarean, you might find your muscles have been weakened from 9 months of baby carrying.
The stem on the Lily Cup is also trimmable, allowing you to alter the length perfectly for your removal preferences. We do want to remind you that the stem is simply there to help get a grasp on the cup, and in order to remove the cup you should break the seal by squeezing the base, not by pulling.
Once you get the hang of it, you'll wonder why you didn't choose this simple, money-saving, and earth-friendly option in the first place.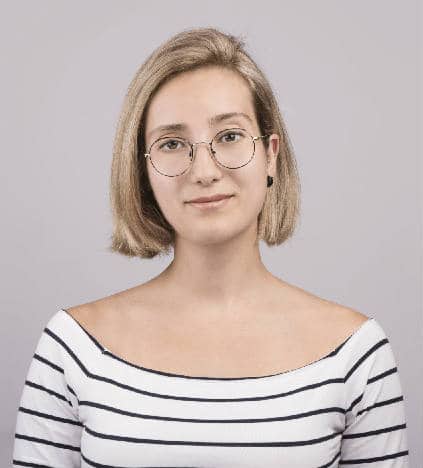 Lane Baumeister is an internationally-based Canadian writer with several years' experience creating educational and entertaining articles that discuss intimate health and sexual well-being. When not waxing profound about menstruation, she devotes herself to enjoying extremely good food and equally bad movies.