PMS Got You Down? Try Twerking!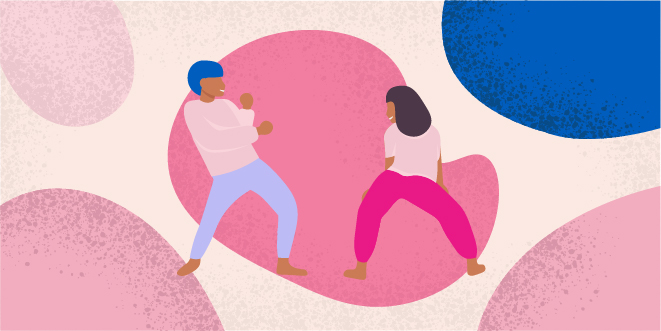 5

min read
Who doesn't love a good dance sesh from time to time? Whether you're enjoying a night out with your friends or having a solo dance party as you unwind from work – dancing is universal and it makes you feel better about life.
Dancing is a great way to get a little workout in, express yourself creatively, and boost your mood, but it might also come with some unexpected benefits – PMS relief.
The Dreaded PMS
After an egg is released during ovulation, your body starts preparing itself for a possible pregnancy. This is called the luteal phase and takes place from approximately days 15-28 of your cycle, ending with the start of your period.
The luteal phase is also when PMS takes place. Although not everyone experiences PMS, up to 90% of people who menstruate have had premenstrual symptoms at some point in their reproductive life, with about 20-40% of them experiencing PMS. A smaller percentage, 2-8%, experience premenstrual dysphoric disorder, PMDD with more severe symptoms like anger, depressed mood, feeling out of control or overwhelmed, and insomnia. 
Some of the most common symptoms of PMS include:
Fatigue

Spotting

Cramping

Irritability or low mood

Breast tenderness
If you're reading this, you're probably well aware of these symptoms and may have accepted that you're at the mercy of your hormones. But that's far from the truth.
There are quite a few steps that you can take to help manage symptoms of PMS like managing your diet, getting acupuncture, and regular physical activity. You can also have some fun with your reproductive health care by you guessed it – twerking.
Is Twerking The Cure to PMS?
First things first, no twerking is certainly not a cure for PMS. Everyone's reproductive health needs are different, and what works for one person may not work for another. That being said, twerking can offer some really incredible benefits when it comes to PMS.
Twerking is not a new trend. Cultures from all over the world have done twerking-like dances for generations. Traditional dances from Africa, Tahiti, India, and many other regions have traditional dances that isolate the hips and pelvis, much like twerking – and were often performed by women. While there are numerous cultural-societal reasons that women did these dances, they also offered physical benefits.
Dancing and PMS Relief
As of now, there are no definitive studies specifically observing the relationship between twerking and PMS, but we're rooting for you science. That being said, researchers have been able to find significant improvements in symptoms of PMS with regular dancing. 
One study focused on the effects of running vs dancing tango and how that affected pre-period symptoms. Researchers found a reduction in symptoms of PMS and symptoms during their period for the tango dancing group. They also established a connection between dancing and the duration of PMD (premenstrual disorder) symptoms.
Dancing Regulates Hormones
One of the main factors behind PMS is hormones. At the start of the luteal phase, progesterone levels start to increase to help prepare the body for a potential pregnancy. Levels decrease again later in the luteal phase, especially right before menstruation. This drop is suspected to be one of the main culprits behind uncomfortable PMS symptoms. 
It's not just progesterone that's to blame, estrogen levels also decrease during the luteal phase, contributing to PMS. Aerobic exercise, like say twerking, increases concentrations of these hormones, potentially helping to decrease symptoms of PMS.
It Relaxes The Body
Let's try something together.
Stand up if you can, and take a moment to close your eyes and notice any tension in your pelvis and/or lower back. Now set a timer on your phone for 30 seconds and start to shake your hips rhythmically or go ahead and twerk. 
When the timer is done, take another few seconds to see if any of that tension has lifted. Notice a difference?
Twerking can help release tension in the hips and pelvis that can contribute to pelvic pain and discomfort that you experience before your period. Researchers hypothesize that because dance is "such a calm and 'undemanding' form of exercise, affecting the muscles of the pelvic and abdominal area, relaxes and oxygenates them so significantly that it is a better form of relieving PMD symptoms than running".
Dancing is more accessible than a lot of other forms of exercise, but you do what works for you. Any form of regular physical activity may give you a significant reduction in pain in the lower back and abdomen, which can be even worse during PMS.
Twerking Is Fun!
Besides some awesome physiological benefits, when it comes down to it, twerking is fun. You get to take a minute, or a half hour, or however long you want to blast your favorite tunes, release some energy, feel present in your body, and enjoy the process.
The thought of exercise before your period can be daunting, and you might do better with some gentle movement that you actually enjoy. PMS can make you feel low, grouchy, and just not like "yourself", having fun can help break up some of that and help you feel better overall. 
Twerking by yourself is great, twerking with a buddy is even better. Having a dance session with your friends gives you the added benefit of socializing. Being social helps to reduce stress levels and improve your mood. Although there's a lot more to the picture, anxiety and stress are related to higher levels of menstrual pain and PMS.
Time to Shake That Booty
If twerking isn't your thing, no worries. Any way you move and groove can potentially help your PMS symptoms. Looking for some other ways to help improve your pre-period funk? We've got tips on managing bloat, dealing with PMS insomnia, and navigating hormonal migraines. 
When you're ready for a break from all that research, be sure to pump up the jams and get your booty shaking.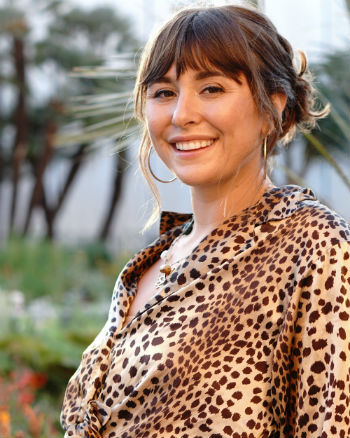 Natasha (she/her) is a full-spectrum doula and health+wellness copywriter. Her work focuses on deconstructing the shame, stigma, and barriers people carry around birth, sex, health, and beyond, to help people navigate through their lives with more education and empowerment. You can connect with Natasha on IG @natasha.s.weiss.