Each year for International Women's Day Intimina celebrates women dedicated to making the lives of all women better. This year with the success of our Lily Cup Compact Kickstarter campaign, we want to pay special attention to the inventor of the menstrual cup: Leona Chalmers. She not only created an ingenious solution to period protection, but also inspired other women to demand better menstrual care. So this International Women's Day we're making her the honorary captain of #TeamMenstrualCup  and spreading the word about her contribution to women's health.
Leona Chalmers – Menstrual Cup Inventor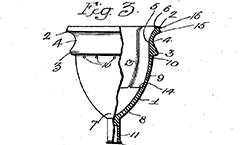 Mrs. Chalmers patented the first menstrual cup in 1937 – so they've actually been around for quite a long time! Made out of vulcanized rubber, this cup was a totally new idea in menstrual care, but convincing other women to make the switch was difficult and she had many setbacks. Despite all of her efforts and multiple improvements to the cup, American women just were not ready for the menstrual cup revolution. But she never stopped innovating and educating women about their intimate health. Learn more about Mrs. Chalmers and the History of Menstrual Cups on our blog.
The Menstrual Cup Evolved: Lily Cup Compact
Today, we're proud to say that Intimina is continuing Leona Chalmers's work and bringing better menstrual cups to women aroundthe world. Despite the switch to medical-grade silicone, cups largely hadn't changed much since the 1950s, but at Intimina we wanted to take this innovative device and completely revolutionize it. So we created the Lily Cup and the Lily Cup Compact, taking Mrs. Chalmers' work to the next level.
Menstrual cups have finally gone mainstream as more and more women have discovered the benefits of ditching disposable products and told their friends about them. But it's important to remember that it all started with one tenacious woman with a passion for improving the lives of other women – something Intimina can definitely relate to.  Help us honor her by sharing this article with your friends and get the word out about this amazing woman. Hopefully they'll be as inspired by her as we are.
Be sure to follow us on Facebook and Twitter and use the hashtag #WomenWeAdmire to let us know which women you think should be recognized!