Life is Sweet with Intimina – Meet Us at POPSUGAR Playground This Weekend in NYC!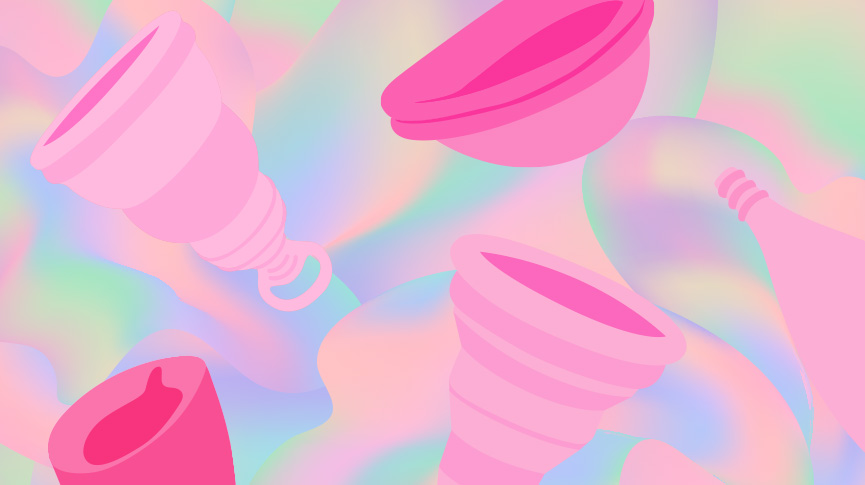 4

min read
Partying and periods are kind of a match made in hell. I mean, when was the last time you saw those telltale blood spots in your thong and thought, yessss, tonight is THE night for drinks, dancing and post-club hook-ups? We're gonna guess the answer is never.
But here's the thing. The fine babes at Intimina are trying to turn our old pal Flo into less of a cranky biotch and more of a party girl, and that's why you'll find us front and center THIS weekend (pssst, that's June 22-23, 2019!) at POPSUGAR Playground this weekend in NYC.
We're pretty freakin' stoked on the whole shebang, honestly. POPSUGAR Playground is run by the same folks who bring you all sorts of self-lovin,' female-empowering, ultra-sweet goodness for your eyeballs and up-to-the-minute news stories at PopSugar.com.
So in short, if you're down to hang with a bunch of inspiring female CEOs, LGBTQ+ superstars, famous female faces (like Mandy Moore, Issa Rae and Chrissy Teigan, seriously), and health and wellness gurus, POPSUGAR's inspiring playground of girl-boss wonders is your place to chill this weekend.
The Intimina crew will be posted up right across from the main stage, so we hope you'll pop in and say hi! We'll even be running a cute game at our booth where you can spin our purdy pink wheel for a chance to win a goody bag. Which brings us back to our fave period cup, the Ziggy Cup, which you'll totally nab in your grab bag if you win the spinning game.
So here's the deal on the Ziggy Cup and why you're definitely going to want to stop by and try your hand at winning one this weekend. You've probably heard of menstrual cups a.k.a. period cups, right? Intimina has a whole line of these bad boys (err, girls) for all your period needs.
Looking for something extra slim and comfy? That'll be the Lily Cup. Need a Jane-of-all-trades cup for every day of your cycle while you're on the go? Gals, meet Lily Cup Compact. Not really sure where to start? Try out the Lily Cup One if this is your first go-around with a period cup.
No matter how you slice it, period cups rock. They're reusable and wash easily in the sink, which saves an insane amount of tampons per year from being dumped in landfills. They're also super comfortable and make your cycle a snap. Most Intimina fans report a huge decrease in cramps, and you'll never feel your cup hangin' around in your vag like a super-sized tampon.
So what makes the Ziggy Cup so special? It's specially designed to hold back your flow while you have sex. Yes, you read that right – we just invented period sex without the annoying period part.
If you dig a good time and don't feel like damming up your red river, we're totally cool with that. As long as you practice safe sex, you can screw while running red all you want. There's nothing unsanitary about your period blood. (Just be sure to wash your sheets, towels, and undies shortly after you're done. After all, bodily fluid-soaked linens don't smell too nice when they're left in a clump in your hamper.)
But we've heard your cries, and a lot of you babes aren't big fans of period sex because of – duh! – the whole period part. However, menstrual hormones make most folks suuuuper horny, so we thought we'd come through with a solution to save you from screwing up your white sheets while you screw around.
The Ziggy Cup is flat, round and flexible – kind of like a squishy half-moon shape – so all you've gotta do is squeeze it together, insert it into your vagina no differently than a tampon, and let it slide into place against the upper wall of your vag. There, it'll hang out under your cervix and catch any drips that leak out while you're off in ecstasy land.
The super-soft, flat top doesn't obscure penetration, so you can take a penis, dildo, or vibrator without risk of getting poked with hard plastic.
If you're super squeamish about blood, you can even lightly rinse out the lower portion of your vagina with some clean, filtered water and a silicone douche after insertion. It's not mandatory whatsoever, but we get it – some people get freaked out by blood, and we respect your right to do whatever it takes to have the amazing sex you deserve.
Have we given you enough reasons to come pay us a visit at the Intimina booth this weekend at POPSUGAR Playground? You might even be tempted to try Ziggy before you get your next period!
Catch you at the party in New York, New York!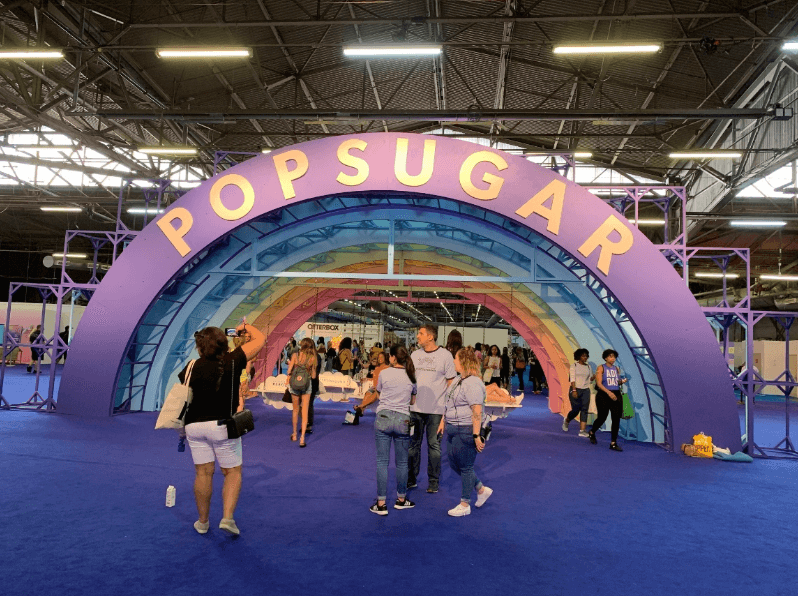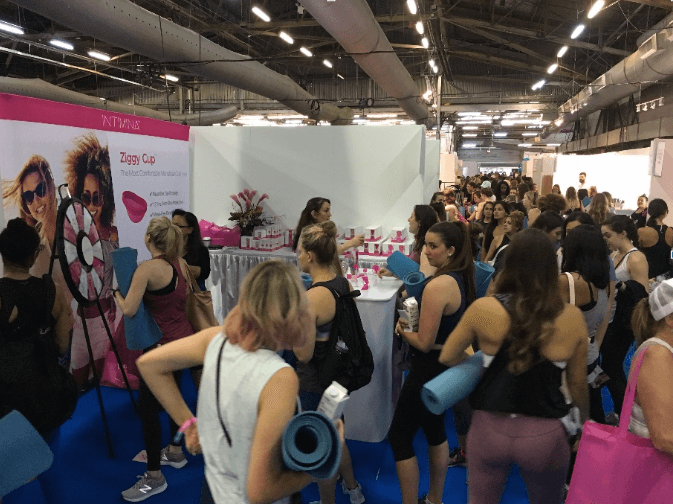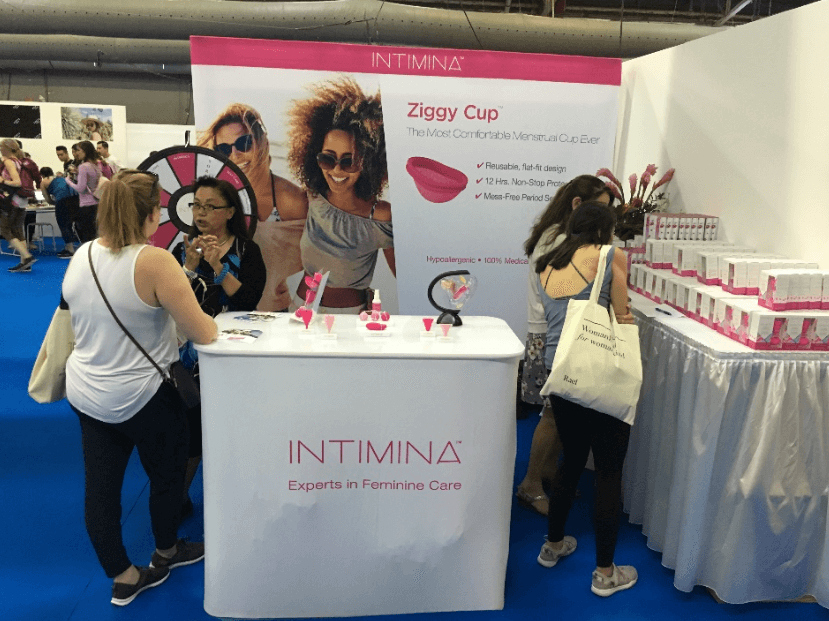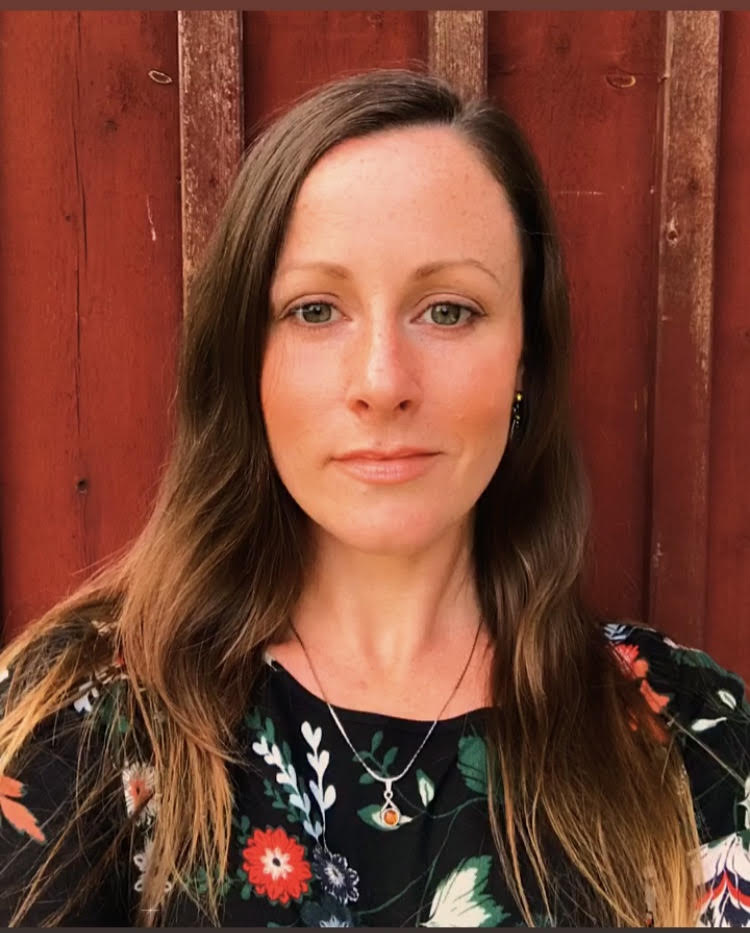 Colleen Godin is a sexual wellness writer and journalist. She operates a one-woman business at ThePleasureConnection.net, specializing in copywriting, marketing and events for the greater pleasure industry. In her spare time, she enjoys disappearing into the forest, finding herself in a great song, and long drives during spontaneous road trips.