What Are Uterine Fibroids?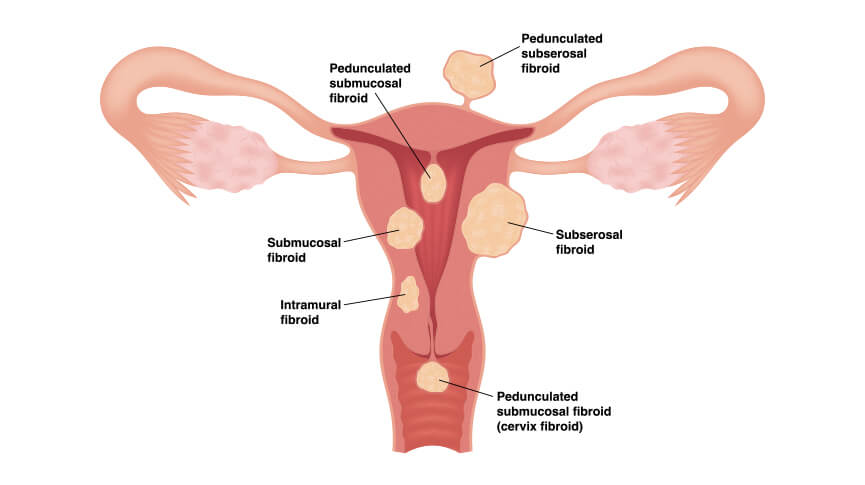 5

min read
There's no argument that having a uterus can be complicated. Between periods, pregnancy, menopause, and everything in between, it can be a lot to manage. Not to mention there are quite a few things that can go awry with this sensitive, yet incredibly strong reproductive tract.
Take uterine fibroids. These (typically) non-cancerous growths are made up of muscle cells and tissues that grow in and around the uterus. While it might seem scary, they are the most common benign tumor for people with uteruses who are in their reproductive years. You can be proactive about your reproductive health by learning about uterine fibroids – right now. 
Uterine fibroids vary in size from about the size of an apple seed to a grapefruit, and can grow in clusters or as a single fibroid. There are three different types of uterine fibroids:
Submucosal Fibroids:

Grow just underneath the uterine lining and into the endometrial cavity.

Subserosal Fibroids:

Which grow on the outside of the uterus.

Intramural Fibroids: These grow between the muscles of the uterus.
Pedunculated Fibroids:

These mushroom looking fibroids grow out from the surface of the uterus or into the cavity of the uterus. 
Now that you understand what a uterine fibroid is, let's get to know the symptoms, risk factors, and treatment options.
What Are The Symptoms of Uterine Fibroids?
While the idea of growth in your uterus may seem alarming, many people have no issues or symptoms with them. Although that's not the case for everyone.
Here are some common symptoms of uterine fibroids:
Spotting between periods.

Frequent urination – Some fibroids can put pressure on the bladder.

Lower back pain.

A full feeling in the lower abdomen, or constant bloating.

Infertility or multiple

miscarriages

in a year.

Painful or heavy periods.
Keep in mind that these symptoms are common for many other reproductive health issues like endometriosis and PCOS. It's important to see a healthcare provider and get a thorough screening before self-diagnosing. That being said, many reproductive health issues are often overlooked. If you feel like your healthcare provider missed something, be sure to advocate for yourself for further testing or see a different provider.
Uterine Fibroid Complications
While many people with uterine fibroids have no issues, that's not the case for everyone. Outside of the symptoms listed earlier, the most common complications occur during pregnancy, or when trying to get pregnant. 
Some people with uterine fibroids experience infertility or difficulty conceiving. For those that are able to get pregnant, they have an increased risk of difficulties during pregnancy and labor, compared with people who don't have fibroids. Here are some of those risks:
Increase the risk of a

cesarean section

by about

six times

. 

Breech baby

Preterm delivery

Labor not progressing naturally

Placental abruption, which is when the placenta breaks away from the wall of the uterus before delivery. This can cause the baby to not get enough oxygen.
Fibroids can also grow rapidly during pregnancy because of the change in hormones that occurs in the body.
For those that experience difficulty conceiving, they may be helped with invitrofertiliation (IVF) or intrauterine insemination (IUI).
Other than issues with pregnancy and birth, other potential risks include cancer. This is fairly rare though. Less than one in 1000 uterine fibroids are cancerous, called leiomyosarcoma. That being said, having uterine fibroids doesn't increase the risk of someone developing a cancerous one or another form of uterine cancer
Who Gets Uterine Fibroids?
Believe it or not, uterine fibroids are incredibly common. An estimated 20-80% of people with uteruses develop fibroids by the age of 50. While that may seem like a wide range, they often go undetected because they don't cause any issues or symptoms.
Here are some risk factors that may increase a person's chance of developing uterine fibroids:
Age

: They are most common in people who are in their 40s and early 50s.

Weight:

Being overweight is a risk factor. A balanced diet can help reduce the risk of developing fibroids.

Family History:

If a person's mother had fibroids, it increases their risk by about three times.

Hormone Imbalances:

Fibroids are affected by estrogen and progesterone levels.
 How Do You Treat Uterine Fibroids? 
Before fibroids are treated, you will first undergo tests to make sure that's what's going on. This is done through an exam and possible imaging tests like ultrasounds, MRIs, x-rays, and cat scans. If you don't have symptoms, your gynaecologist may find them during a routine exam. They can also be detected through exploratory surgery using laparoscopy or hysteroscopy 
Many people don't need treatment for their fibroids, especially if they don't have any symptoms. For people who have moderate or severe symptoms, surgery is an option. Another option is hormone therapy. These drugs slow or stop the growth of fibroids. A newer treatment is called Radiofrequency ablation. This procedure uses heat to destroy the fibroid tissue, without harming the surrounding areas. This is typically an outpatient procedure with a fast recovery time. 
Oftentimes fibroids go undetected and don't need treatment. They sometimes shrink or stop growing on their own, and typically stop growing or shrink once someone reaches menopause.
It can be scary when you're unsure what's going on with your body or to be diagnosed with something like uterine fibroids. If you have any concerns or questions, be sure to consult your healthcare provider, and again, seek out a second opinion if you don't feel comfortable with or heard by your provider.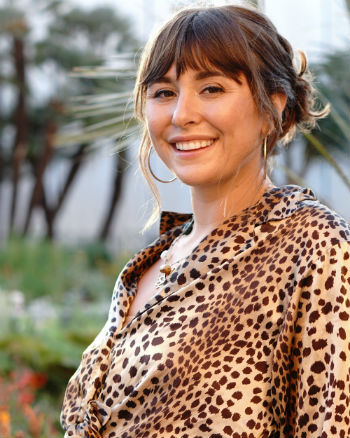 Natasha (she/they) is a full spectrum doula, reproductive health content creator, and sexual wellness consultant. Her work focuses on deconstructing the shame, stigma, and barriers people carry around birth, sex, and beyond, to help people navigate through their lives with more pleasure, softness, and sensuality. You can connect with Natasha on IG @spectrumoflovedoula.